The primary adjusting technique used by Dr. Langel is the:
Activator Methods Chiropractic Technique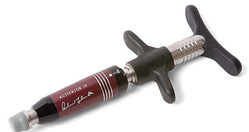 Activator Methods normalizes the tone of the nervous system; abnormal tone is caused by the Vertebral Subluxation Complex (VSC). Imagine that your nervous system has a volume control: if you turn the volume up too high, it causes distortion (increased tone) which can show up, for example, as internal organ complaints, musculoskeletal stresses, diminished immune response and emotional/behavioral problems.
The same thing occurs if the volume control is set too low, in other words the nervous system is not sending enough messages to the body for what is necessary to get the job done (decreased tone). This causes your body systems to become sluggish. They slow down function and sometimes simply turn off. The muscles can become weak and do not support your skeleton well, leading to all sorts of aches and pains. Activator Methods corrects these problems with increased or decreased neurological tone by normalizing the functioning of the nerves, spinal cord and brain.
Activator Methods is based on neurological testing and gentle thrusts by the "Activator" adjusting instrument. This low force adjusting method allows the nervous system to better integrate and understand the new corrective information and to process it throughout the spinal cord and brain.
Your nervous system corrections do not stop once you get off the table, they continue as you breathe and move. You may notice that "spontaneous release" of spinal tension later in the same day. Activator Methods teaches and empowers your body to make more corrections and healing with ongoing care. Because analysis and correction are not limited to just the area of pain and symptoms, integration tends to be more complete and healing experiences are deeper in all areas of the body, mind, and emotions.
Activator adjustments release tension on the nervous system which may lead to profound neurological changes. These changes can benefit everyone regardless of what symptoms they are experiencing or their current level of health. The primary intent of Activator Methods is to progressively release tension, torsion, and distortion of the entire neurological system; to release trapped unresolved patterns in the body/mind and to facilitate reintegration of the nervous system thus, allowing for a greater expression of one's healing and performance capabilities.